Drum teachers set their own lesson fees. When you request to book a lesson through the website you only pay the tutor's fee. We don't charge any commission, registration, or introduction fees for using our website to find a drum teacher.
The tutors are self-employed individuals and control how much they charge for their lessons.
Because you are dealing directly with the tutor rather than via a Tutor Agency, the teaching fees shown on this site are cheaper because there is no agency commission added to the teacher's lesson fee. Tutor agencies add as much as 50% or more to a tutor's fee.
Drum Lesson Tuition Fees
Tutors set their tuition fees with many different factors taken into account.
Experience
Qualifications
Facilities & Resources
Overhead costs
Location
The graph below is a very approximate representation of how the hourly rate set by the tutor increases. Choosing a more expensive tutor does not necessarily mean they will be a better teacher than a tutor with a lower price. It may be the case that the more expensive tutor has higher overhead costs or provides lessons at a smarter studio. It pays to use this website to compare ALL the factors rather than only the teacher's price.
---
The Graph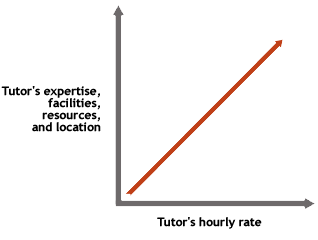 The Tutor's hourly fee is proportional to their experience, qualifications, location and own costs.
Direct to Tutor vs Via an Agency
Agencies typically add anything up to 50%, leaving the Tutor with a raw deal and the Student paying a high price for lessons. Most agencies add a commission charge to every lesson, although some agencies charge an upfront fee (sometimes called an "introduction fee") instead.
All tutors registered with the Drum Teacher Map set their own lesson fees