A great gift idea for the drummer in your life.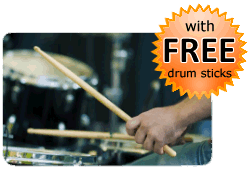 Have you got a friend or relative who is always tapping on the table? There's a drummer in there bursting to get out. Why not gift them a drum lesson?
Drumming Tuition Gift Vouchers
Drum lessons are a fantastic present for someone who "has always wanted to play the drums".
The vouchers are available all year round – Christmas, birthday, Father's / Mother's Day, anniversaries, retirement, and just about any special occasion where you need a creative or 'different' kind of gift. Drum lessons are a fun, rewarding and inspiring experience.
Vouchers are valid for a whole year so the recipient can choose the date and time to book in their session(s) when they are ready, and with a huge range of professional teachers and locations there's no problem with scheduling.
If you are based in London, we recommend you visit our drum tuition partner Elephant Drums to see their range of gift voucher packs.
Free Drum Sticks + Extras!
Every gift voucher comes with a FREE pair of drum sticks which adds a great touch to the gift – something physical for the recipient to unwrap and use even before they schedule the drum lesson.
The lucky recipient will also benefit from a FREE Drum Pass for one or three months (depending which voucher pack you choose). The Drum Pass provides access to a lots of premium online resources which compliment face-to-face drum lessons and these can be downloaded completely free.
London locations
We have partnered up with London's leading independent provider of drum lessons, Elephant Drums. The gift vouchers are valid at any of their London Studios. Visit the Elephant Drums website for further details and to order a gift pack – www.elephantdrums.co.uk/drum-tuition/gift-vouchers
The booking and payment process is handled by Elephant Drums, so click the button below to go to their website where you can customise your voucher and pay via their secure checkout.
Buy a Gift Voucher
(Elephant Drums Studios, London)
Throughout the UK
We now sell downloadable vouchers which you can use yourself or send as a gift to someone else. Drum Teacher Map tuition vouchers allow you to choose the number of lessons to include on the voucher. It can be any number from 1 to 10 lessons. The voucher recipient chooses a free pair of drum sticks. They select their preferred size and wood type when he/she receives the voucher. Postage is included in the base price of the voucher. The free drum sticks are delivered by 1st class post.
Please contact us if you have any questions.