Every tutor has a fully-featured profile. Search for tutors and the first thing you'll see is a quick summary.
It all starts with a search – fill in your location in the box above to view the tutors in your area.
Tutor Summary
The search results will show all the registered tutors in the area. The summary gives the user the most important information to make a quick comparison between the tutors.
[A] Name, location and a short description
[B] Teacher's hourly rate for one lesson
[C] Teacher features – an icon is displayed if the teacher has the feature
Fixed Location (1)
Teacher is based at a drumming studio

Mobile Teacher (2)
Teacher travels to students' homes


DBS Checked (3)
Teacher has a DBS certificate (what's this?)
Has References (4)
Teacher has references from previous and current students

---
Click "read more" or the Tutor's name to go to the full profile and you get a lot more detailed information about the tutor.
View Full Profile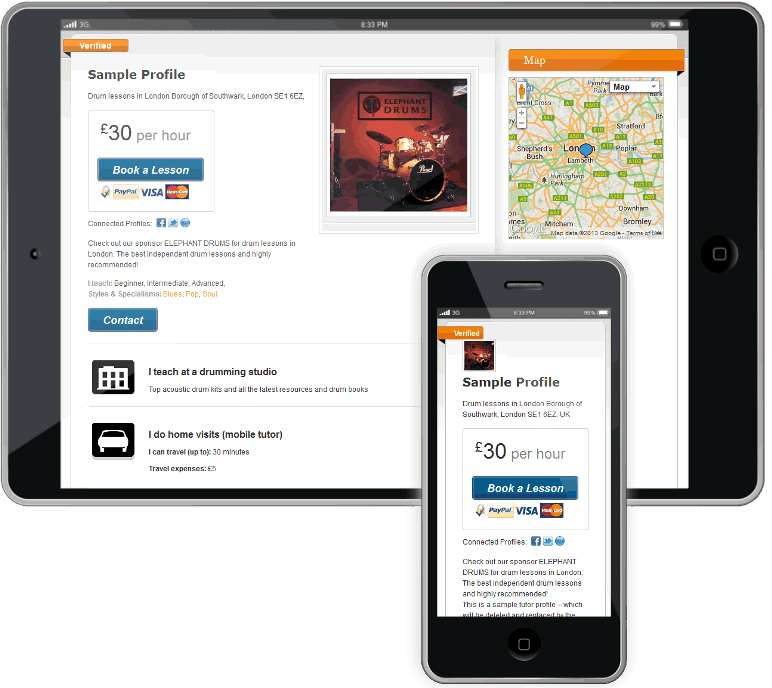 Tutor profiles and all the features are designed to work on all types of device – including mobile phones and tablets.
Ready to book a drum lesson?