Enter a postcode or place name in the box above. Then hit the Search button to find drum teachers.
On the results page you can refine your search by distance or by categories.
Example of search results page: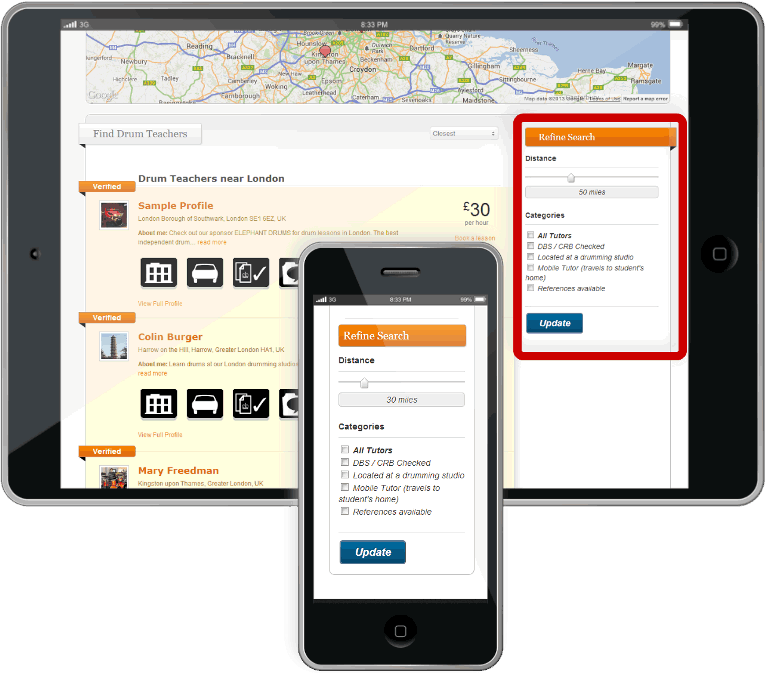 Categories
All Tutors

The default search. Most users will want to view all tutors in their area.

DBS / CRB Checked

This means the Tutor has a disclosure certificate from the Disclosure and Barring Service (DBS). Previously known as the CRB (Criminal Records Bureau).

Located at a professional drumming studio

The Tutor teaches at a music studio, rehearsal room or other professional drum studio. This category can also include studios at a Tutor's home if the tutor teaches at their house.

Mobile Tutor (travels to student's home)

Choose Mobile Tutor for tuition at the student's home. The student will normally need to have his or her own drum kit at home. Mobile tutors usually charge extra for travel expenses and travel time (see the tutor's full profile for details).

References available

This category contains Tutors with references from previous or current students. Verified Tutors have had their references independently checked and followed-up. See the Tutor's full profile to read Testimonials.
Notes on using Search
The search page shows the 10 nearest tutors by default, so you might want to play around with searching for a few different locations to see more than 10 tutors.
Tutor locations shown on the map are slightly randomised for security reasons. The map markers are a guide to show the locality, not the exact location. The full address and directions are given in the confirmation email when you book a lesson.
The search tool is based on "as-the-crow-flies" distances. Bear in mind sometimes it might be quicker to reach a tutor that is farther away (e.g. if there is a direct train).
Find a drum teacher now