It's easy, quick and secure using the "Book Now" button on the teacher's profile page.
It all starts with a search to find all the registered teachers in your area.
Simply select your preferred tutor and when ready to book a lesson use the booking form on the teacher's profile page.
How to Book:
Example of a booking form on the teacher's profile: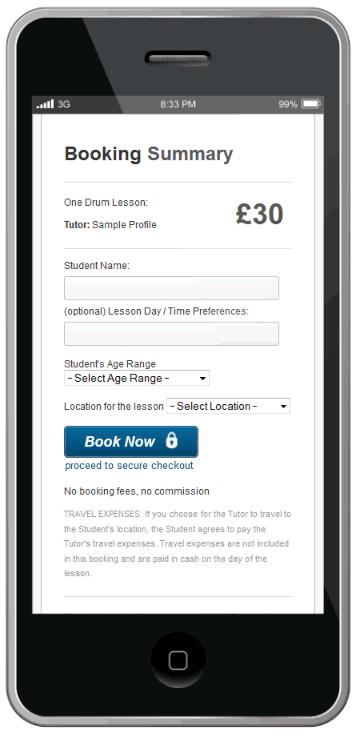 You can use any type of device to book lessons including mobiles, tablets, laptops and computers. Image above shows how it looks on a mobile. The layout may vary on other devices.
No Booking Charges!

The price you see is the price you pay. We do not add any booking fees or commission on top of the tutor's fee.
The Drum Teacher Map isn't an agency so when you make a booking you only pay the tutor's fee. Can't say simpler than that!
You pay nothing upfront to book a lesson via the Drum Teacher Map. All arrangements for payment for lessons will be made directly with the teacher. Check with your teacher whether he/she requires payment in advance or whether it's ok to pay on the day of the lesson.
Tutor additional expenses: If you choose for a teacher to travel to your location you may need to cover the teacher's travel expenses. Where this is the case travel expenses are clearly displayed on the tutor's profile and are normally added to the tutor's fee.
The Booking Form
Speedy Booking
Clicking the "Book Now" button enables you to send a booking request directly to the teacher. The teacher will then be in touch to confirm the details for the lesson.
Book Now – Pay Later
No Credit Card Required For Bookings
Optional details
The optional details speed up your booking process.
Day / Time preferences: give the tutor an indication of availability for the lesson.
Student's age range: tell the tutor approximately the age / previous experience of the student.
Preferred location for the lesson: select whether the lesson is to take place at the tutor's studio or the student's home (if available).